Pouchong Tea
–
A Greener Oolong Tea
In the world of oolong teas, Pouchong tea is certainly a pleasant surprise. It is a refreshing and healthy beverage that can help boost your immune system and lose weight.
Now how can a simple cup of tea help to burn fat faster?
Let's find out!
Pouchong tea is a famous oolong tea known for its mild melon flavour and floral fragrance. Also known as Baozhong, Bao Zhong, Wenshan or even Wen Shan Bao Zhong, this medicinal tea is mostly produced in Taiwan, but you can also find it in China.
Be aware that only in the Ping Lin village, near Taipei, in the Wenshan mountainous area is produced authentic Pouchong. And as you will see, great care is taken to produce it.
Discovering and Producing Pouchong Tea
Oolong teas are known for undergoing the most complex processing method of all teas, thus resulting in remarkable and peculiar liquors that characterize the semi-fermented teas.
The Wenshan area is famous for its teas, as all workers obey strict rules on how to grow and produce tea.
Deep care and delicacy is taken while producing this amazing tea. Beautiful long dark green leaves are handpicked in late March and then lightly twisted into long strips and left out to dry in the sun, differing from most teas that are compacted into a ball shape short after harvesting.
As its English translation suggests – The Wrapped Kind or Paper Packet – Pouchong oolong tea brings back the ancient practice of wrapping tea in paper by hand. The tea leaves are carefully wrapped in white cotton paper before the fermentation process begins.
Pouchong tea leaves are heated in rotating drums to stop the oxidation process at 8% - 15%, unlike other oolong teas that can go up to 70%, such as the Bai Hao Oolong, which is why this Pouchong is sometimes wrongly classified as a green tea, due to its light green color, vegetal aroma and mild taste.
Although this light fermented tea lacks the grassy qualities of most green teas, it offers in return beautiful freshness and floral notes. You will find it the perfect treat to relax after a long day at work!
With such tremendous care and attention that goes into creating your tea, don't be surprised if you find that these teas can be quite expensive. However, the experience of tasting this tea is something that will remain with you forever.

Pouchong Tea – A Floral Surprise
Taiwanese teas stand out for their amazing floral fragrance, making them perfect to blend with foods and other teas. As Pouchong tea offers a mild flavor and strong aroma, it is highly used to produce scented teas, being the most famous Rose Pouchong.
Succulent texture, melon fragrance and a mild fruity taste result in a cup full of health benefits and pleasure.
If you wish to discover more tea facts about this interesting type of tea, read on and find out what is oolong tea?
Now it is time to open the door to the Pouchong tea health benefits. Come along!
Pouchong Tea Benefits
Discover How to Lose Body Fat


Dieting is not easy and crazy sacrifices often lead to putting on more weight that you had when you started.

If you are serious about dealing with the excess fat in your body, then it's time to commit to a healthier lifestyle: some exercise and less fatty and greasy foods. However that does not have to mean a full sacrifice of taste.

Did you know that oolong teas have an extraordinary amount of antioxidants?

And with the added caffeine of oolong tea, you will feel the energy you need while at the same time boosting your metabolism, allowing you to burn fat faster.

Add a tea like Pouchong tea and your diet will no longer seem boring to you, instead make it about treating yourself to such a fine tea as this. Make dieting a pleasure and refined lifestyle choice.



Ease Digestive Disorders


Do you often experience heartburn or stomach cramps after eating? Wouldn't it be great to truly enjoy your meals without any discomfort?

Sometimes, just the thought of future stomachaches is enough to put you off some foods.

Drinking oolong tea on a daily basis can help decrease gastric acids, also preventing intestinal problems. It helps to treat constipation, diarrhea and promotes digestion.

Remember that Pouchong tea boosts your metabolism to digest better and rid your body of harmful waste.

So drink a cup of this floral tea after your meals and let its wonderful melon flavor be your desert.



Improve Cardiovascular Health


You're sitting in your doctor's office and he has your latest blood test results in his hand. And even before he speaks you start asking yourself: how's my cholesterol? Did I exercise enough? Did I eat well?

And if your family has a history of heart problems, then you will know that if your cholesterol levels aren't near perfection, your doctor will most likely not give you an easy time.

But what can you do?

Start with a cup of tea and work from there.

Oolong tea helps to lower blood pressure and reduce bad cholesterol levels. The antioxidants present will help your heart stay fit and pumping, warding off possible cell damage caused by free radicals.

Keep healthy and your doctor happy!



Try a Healthy Stimulant

A great thing about Pouchong tea is that it contains a certain level of caffeine, allowing you to be concentrated and focused and at the same time not be wired up all day.

Next time you arrive at the office still feeling like you have left your head back at home sleeping on your comfy pillow, brew yourself a cup of this tea. It will help enhance your brain activity.

The caffeine in tea is healthier, than that found in your daily cup of coffee.

And though it is less than the amount of caffeine in a cup of coffee, it will make you feel energized, yet calm due to the presence of the amino acid L-Theanine that allows you to relax while being focused at the same time.



Wonderful Detox Tea


What better way to feel healthy than to experience an immune system boost?

That's right, drinking tea takes you a step further.

This oolong tea benefits you by inhibiting the onset of viruses and neutralizing germs as a result of a combination of powerful antioxidants, namely flavonoids, minerals and vitamins.

You will feel cleansed and healthier each day.
Looking for this great floral oolong tea?
or check out a selection of pouchong teas at Amazon.co.uk
Pouchong Tea Side Effects
Pouchong tea can bring you and your loved ones a world of health benefits, but you must be aware that there might be some side effects due to its caffeine content.
When taken in moderate amounts, caffeine in tea enhances your mental state and keeps you focused. However, too much may actually lead to anxiety, tremors, headaches or irritability.
If you are pregnant or breastfeeding, then it is better to limit your caffeine intake to 300mg a day, as it may increase the risk of miscarriage, birth defects or heart palpitations.
The best option is always to consult your physician first, before drinking any tea.
Drinking Pouchong Tea
Let's learn how to brew Pouchong tea so that you may have the pleasure of enjoying the perfect cup of tea.
Feel the passion and warmth that this oolong tea brings you.
First step: choosing the proper water for your tea. If possible, always use spring water to prepare your tea. This will lessen the chances of impurities in your tea that could alter the flavor.


Secondly, heat your water. The ideal temperature for this tea is around 90ºC to 95ºC (190ºF to 200ºF).


Place 1.5 tablespoon (3 grams) of Pouchong oolong tea leaves for every 150ml (5 ounces) of water.


Allow your tea to steep for 3-5 minutes, when using a regular teacup.


Your tea is ready to serve. Its intense green appearance resembles green tea, but its floral taste and fruity aroma takes you right into the world of oolong tea.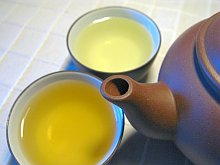 If you have a traditional Chinese Yixing tea set then you may enjoy brewing your tea in the Gong Fu Cha way.
The small clay teapot will enhance the floral fragrance of this tea.
Here are some suggestions on how to brew your Pouchong tea using a Yixing teapot.
First, place loose tea leaves in your teapot until half full.


Then pour boiling water and let your tea steep for 1 minute for the first brewing and every time you reuse the leaves, add an additional 15 seconds to the steeping time.


You may reuse your tea leaves 3 to 4 times.
Drink your Pouchong tea plain, with no added sweeteners to fully experience this amazing cup of tea.
Want to start living a healthier life? Have a cup of Pouchong tea. This cleansing tea is ready to welcome you and your family!
Buy Your Pouchong Tea Today!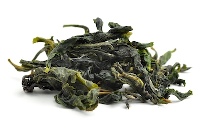 Click on the image or on the links below to purchase from
Art of Tea
your
Bao Zhong High Grade - Pouchong
.
This is a high quality oolong tea. The leaves are handpicked and only just slightly oxidized to give a tea that is jade in color.
Resembling a green tea, this Pouchong from Northern Taiwan is quite a delicacy.
Enjoy this tea to its full and wonderful potential by reading more information about oolong tea here:
Return from Pouchong Tea to Types of Tea

Return to The Right Tea Homepage


"In the Taste of a single cup of tea you will eventually discover the truth of all the ten thousand forms in the universe."
- Attributed to Kyongbong Sunim, Ch'an (Zen) Master