Brown Betty Teapot
-

The English Teapot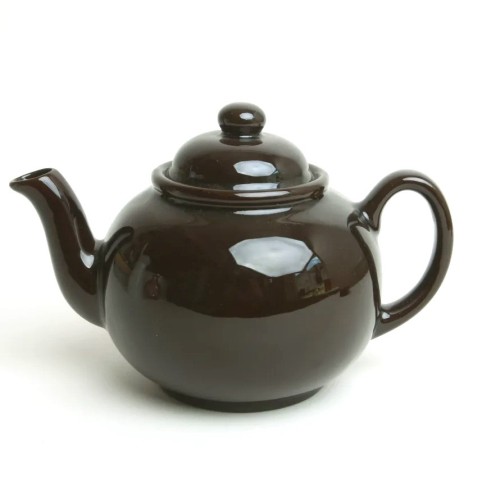 Making great cups of tea since the 17th century, the
Brown Betty teapot
is the ideal teapot for you or anyone to own.
Round in shape and with a beautiful glazed brown exterior, this teapot has been a favorite for many generations.
It s perfect for your everyday pot of tea.
Easy to use and easy to clean, your home may not feel complete without one of these teapots. It comes in many sizes and in the characteristic brown color.
Its adorable round shape has been copied worldwide, so how can you be sure you own a genuine Brown Betty?
Come, let s travel to England and have a cup of tea!
Where does the Brown Betty Teapot come from?
So what is a Brown Betty teapot? Also known as Red Ware teapot, it is a type of teapot made from red clay that has a round shape and is coated in a characteristic manganese brown glaze.
The First Teapots
The red clay was first sourced from the area of Stoke-on-Trent, in England at the end of the 17th century. This clay was believed to retain heat better and therefore was preferred for pottery.
The famous glaze that gives the teapot its brown color is known as a Rockingham glaze, which is strong, durable and gives it a wonderful clean and shiny look.
At first this was a slim and tall teapot, much like a coffee pot, which was used only by the elite of the 17th century. This was when tea was a rare and very expensive commodity, but this would soon change.
Increasing Popularity
During the reign of Queen Victoria in the 19th century, tea plantations were set up in the British colonies in India, making tea much cheaper and available in larger quantities for the lower classes.
At the same time, the Brown Betty took on its famous rounded shape and became a popular item in most English households.
It is the combination of the heat-retaining clay and the rounded shape that still gives the Brown Betty the reputation of being a superior teapot.
Its shape allows the loose leaf teas to swirl and brew with greater freedom a better, less bitter, pot of tea.
---
Is your Brown Betty teapot genuine?
How to check if you own a Brown Betty teapot or how to make sure you buy a genuine one? Let s find out.
Begin by seeing if your teapot has a small sticker of the British flag. The sticker is removable, but your teapot should have it at the moment of purchase.


Then observe the unglazed parts of the teapot and look out for the typical red clay.


Today only a few manufacturers, like Cauldon Ceramics in Stoke-on-Trend, may claim to produce a genuine Brown Betty teapot as they have owned the rights to the design since the 17th century.


So you can also tell if your teapot is genuine or an imitation by the mark on the bottom of the teapot stating its origin from the Cauldon factory or the official Made in England mark. All the great English teapots are made in Staffordshire.


They may also have the trademark Original Betty on the bottom and may be accompanied with a card explaining the history of this teapot.
What is the right size of the teapot? The Brown Betty comes in different sizes, from small ones that serve 2 cups to bigger ones that hold enough tea for 8 cups.
Choose the one that is most appropriate for you.
The Brown Betty in blue? The Cobalt Betty teapot!
The traditional Brown Betty is, of course, brown, but you can now purchase a new version of this teapot that is still made in England with the same heat-resistant clay and with the same round shape.
The only difference is, of course, the color.
More precisely it comes in with a glazing in cobalt blue and therefore gets the name Cobalt Betty teapot.
These teapots are not very expensive, but real ones can sometimes be hard to find, so look for all the signs that make it a genuine Brown Betty teapot.
---
How to use your teapot
Making a cup of tea in a Brown Betty tea is incredibly easy. So put the kettle on and choose your tea.
Use warm water to heat up your teapot. Just pour the water in, let it sit for a few moments and then pour it out. This way, your tea will not immediately cool down on contact with the pot.


Follow the instruction to make your specific type of tea. In general, it will be about 1 teaspoon of tea per cup of water, but you can adjust to your liking.


You can use either a tea ball or tea infuser to hold your tea leaves, but the great advantage of a Brown Betty teapot is that its shape is perfect to let the loose tea leaves swirl freely.


Do you wish to keep your tea warm for a longer time? Get a tea cozy!


Follow the appropriate steeping times and when the time comes to serve your tea, use a tea strainer, to prevent the leaves from falling in your teacup.
Your Brown Betty teapot will serve your tea to perfection!
---
What teas can you brew with this teapot?
One of the great things about a Brown Betty teapot is that the glazed interior allows you to brew any kind of tea you wish.
Here quick suggestions for you:
The two exceptions would be matcha tea as it does not require a teapot to be made and flowering tea that would be best brewed in a glass teapot, as seeing the tea ball open is part of the fun of this tea.
Enjoy any tea you love made directly in your Brown Betty teapot.
---
How to care for your teapot
A Brown Betty teapot is a great teapot because it is both dishwasher-safe and heat resistant. Still, it is better to care for your teapot like you would with any other ceramic teapot.
Washing your teapot
Wash by hand with warm water and mild dishwashing detergent. Make sure to rinse well so as not to leave any soapy residue that may affect the flavor of your future teas.


Some people will only wash their teapot with plain water, leaving some tea residue on the teapot to build up a stronger flavor. This is your choice, but it is not advisable if you brew different flavored teas in your teapot.


Let your teapot air dry or dry with a dishcloth.
Keeping your teapot
Though your teapot is heat resistant it should not be used on the stovetop or in the microwave.


The Brown Betty is made from thick red clay, but it may still break, so handle it with care while washing, making sure it does not slip or bump against anything.
Taking care of your teapot will ensure you many great cups of tea for a long time.
---
The Brown Betty Tea Set
This is a teapot that can be matched with any tea cup or mug that you have at home. So here is a small list of suggestions to increase your enjoyment when using this teapot:
Tea cups/mugs: there are cups and mugs made from the same clay and glazing as the Brown Betty teapot, but you can use this teapot with your favorite teacups and mugs any time.


Tea infuser: you can use an infuser to place your tea leaves when brewing your tea, but this teapot is famous for its shape allowing the leaves to swirl freely in the water. However, an infuser would make cleaning the teapot much easier and allow for rebrewing the tea when you don t empty it out immediately.


Tea strainer: if you decide to not use an infuser, then it is definitely best to purchase a strainer in order to prevent the tea leaves from falling into the teacup when you are pouring the tea.


Tea cozy: this teapot will keep your tea warm for a long time, but in cold weather, you should consider purchasing a tea cozy so that the tea does not cool down too quickly. There is no need to drink your tea in a hurry.
Take time to enjoy your tea and your new teapot. These tea accessories will help enhance the whole tea drinking experience.
Drinking tea is a ritual that goes back many centuries and is filled with wonderful tradition. Brew your tea in the Victorian fashion and take a moment to relax.
Now you are ready to enjoy the perfect cup of English tea.
Return from Brown Betty Teapot to Tea Accessories
Return to The Right Tea Homepage

Do you have a question? Then feel free to Contact Us!
And don't forget to follow us on Facebook to receive updates, photos and interesting tips and news! Follow us also on Pinterest!
---