Cucumber Sandwiches
–

A Staple of the Afternoon Tea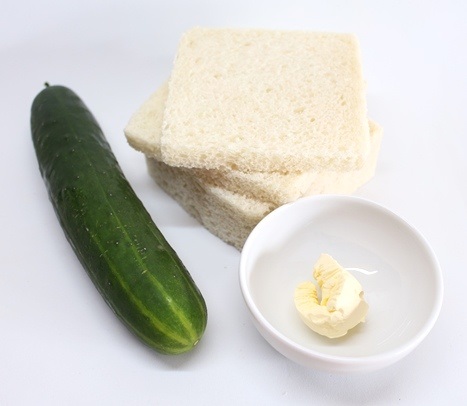 Cucumber sandwiches
are a mandatory staple in a traditional afternoon tea.
This refreshing treat is very easy to make and the modern takes on this recipe allow you to use your imagination and find creative ways to satisfy your palate.
Find out why such a simple thing as cucumber slices between two pieces of bread were, and still are considered by some, a refined treat to be enjoyed only by the upper echelons of society.
History of Cucumber Sandwiches
Cucumber sandwiches have been present in the British afternoon tea since the 19th century.
It is said that British settlers in colonial India ate these sandwiches because the freshness of the cucumber would help deal with the heat of the subcontinent. It would be present in picnics and cricket matches.
In Victorian Britain, only the upper classes would eat cucumber sandwiches. It was a treat to be enjoyed during their afternoon tea without the risk of ruining their appetite before supper.
Not only were cucumbers expensive, but also they were hard to come by in England. In addition, the working class preferred and needed a more substantial meal, preferring meat products rather than the light and less filling cucumber during their tea break.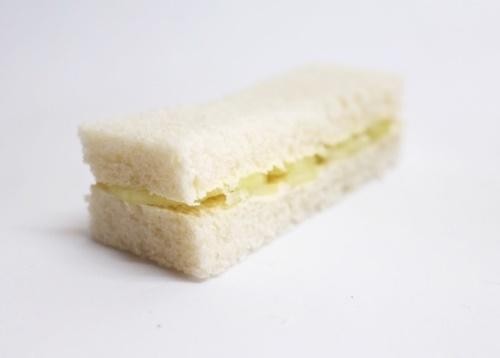 The play The Importance of Being Ernest by Oscar Wilde immortalized in literature the notion of cucumber sandwiches as a delicacy enjoyed by the richer folk.
In the Edwardian era, cucumbers became increasingly available – being produced in hothouses – and increasingly popular. The lower classes began to enjoy this treat with their cup of tea.
As tea as a meal became less popular, so did the cucumber sandwich, pushed again to domain of fancy afternoon teas, picnics and gatherings. The cucumber sandwich would always retain its reputation as refined food in the British afternoon tea ceremony.
Posh or not, the cucumber sandwich is a refreshing snack perfect with a cup of tea either in a fancy setting or simply as a great treat for a hot summer afternoon.
Ingredients – Traditional and Modern Cucumber Sandwiches
The traditional version of cucumber sandwiches requires few ingredients:
White bread
Cucumbers
Butter
Salt
Pepper
Modern variations of this recipe, particularly in the American versions, require different ingredients:
White or wholewheat bread
Cucumber
Cream cheese (plain or seasoned)
Dill or chives
Mayonnaise
Benedictine
Of course, you will find many possible variations on the recipe and it is encouraged that you try them so that you find the ideal cucumber sandwich for you.
Perhaps, you should begin with the traditional recipe and then explore and understand how changing each element of the recipe changes the sandwich itself.
Making Cucumber Sandwiches
Cucumber
This is the most important element so choose your cucumber carefully. Pick one that is firm and with as few blemishes on the skin as possible.
Traditional recipe
Peel the cucumber – this is preferable because, unless it is organically grown, there may be residue of pesticides applied by farmers. Some people do not mind the thin peel of the cucumber, if this is your case just make sure to wash it thoroughly and properly.


Cut into thin slices – sharpen your knife well so that you get slices that are 1 millimeter thick. Larger slices may be harder to cut your sandwiches neatly into smaller pieces.


Add a pinch of salt – spread out the slices on a place or cutting board and season them with salt. This will not only add flavor to the cucumber, but also make the slices sweat and release moisture that could otherwise go into the bread.


Pat the slices dry – using 2 sheets of paper towel soak up that excessive water.


Taste one slice – there is still time to adjust the salt on the cucumber, adding more or washing off any excess. Once put on the bread, it will be harder to correct the flavor.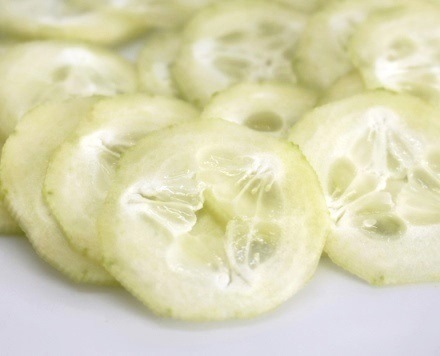 Modern recipes
Some recipes will suggest that you cut the cucumber length-wise and take out the seeds so as to reduce moisture.


Other recipes recommend adding lemon juice or soaking the cucumber slices in white wine vinegar. These flavors are rather strong, so make sure to always taste the cucumber first before putting it on the bread.
Bread
Traditional recipe
Cucumber recipes call for thin slices of soft white bread. You can either choose with or without crust.


The thinner the bread, the better, the idea is that these cucumbers be a light treat. As for the shape, consider buying loaves that you can cut up into smaller identically sized sandwiches with as little waste as possible.
Modern recipes
In some recipes you find wholegrain bread, but this is a matter of choice.
Butter/ Filling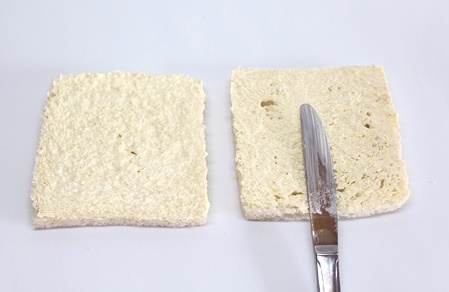 Traditional recipe
Use unsalted butter or vegetable cream – since you have already seasoned the cucumber with salt, using salted butter could be a bit overpowering.


Using vegetable creams may be a better option for those who do not tolerate butter or need to cut on cholesterol-rich fats.


Spread a thin layer of butter evenly on both slices of bread – the idea is to cover the whole slice in order to create a barrier between the bread and the cucumber. This will prevent your sandwiches from getting soggy.


Once properly buttered, place your slices of cucumber on the bread, just slightly overlapping each other trying to cover up as much of the bread as possible.
Modern recipes
Cream cheese – most American recipes replace butter with cream cheese. You can choose either plain cream cheese or the herb-flavored kind. The important thing is to remember to cover the bread properly with the cream cheese.


Mayonnaise – some recipes suggest using mayonnaise mixed in with the cream cheese. Be careful with how you blend flavors into your spread so as not to overpower the delicate flavor of the cucumber.


Benedictine – this is a soft green spread based on cucumber purée and cream cheese, and seasoning. There are many recipes to make this spread, including onions even, which seems to be rather a strong element to add to such a light sandwich.
Seasoning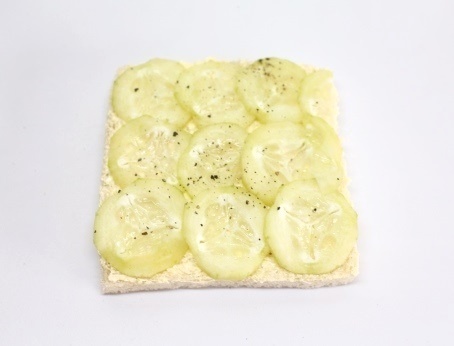 Traditional recipe
Season the cucumber with just a sprinkle of pepper. Some people prefer powdered white pepper to freshly ground black pepper because of the heat and intensity of the pepper when ground. See what suits your palate best.
Modern recipes
Dill or chives – when using cream cheese it is often suggested that you add chives or dill into your mixture or sprinkle these over the cucumber slices.


Should you add garlic? This is considered a forbidden ingredient. Garlic has a strong flavor that would drown out the delicate freshness of the cucumber. Again this is up to you, but you should be warned that this is frowned upon if you serving these sandwiches at a fancy tea party.
Now just place the second slice of bread on top and you are done. Just a few final touches and you are ready to serve.
Presentation
You could serve or eat you sandwiches just as they are, but let's make them look nicer.
Crust on or off?
Traditionally cucumber sandwiches are served without crust, to appear as delicate and as uniform as possible. So if you bought bread with crust, get your sharp knife and cut the crusts off.
Shape of the sandwiches
Rectangles, triangular or squares, either way you go, you are fine. It is indifferent how you cut up your sandwiches as long as there are of equal size.


Use a sharp wide-bladed knife when cutting thorough the bread. If you use a serrated knife, you are likely to tear off bits of the sandwich, as the bread is so delicate and soft. Make a first cut on the edge of the bread and then press the sandwich down as you cut. This will the bread and cucumber from moving.
Afternoon tea
When placing these sandwiches on a tiered stand for an afternoon tea, remember that they go on the bottom layer with other savory sandwiches or treats (scones go in the middle and sweets on the top layer).


Because these cucumber sandwiches have a delicate and refreshing flavor you can pair them well with your favorite tea as the flavors are not meant to mask the aromatics of the tea.
Tricks and Tips
So you are planning your tea party, but don't have time to make all the sandwiches ahead of time? Let us see what we can do.
Begin the day before! Get your bread ready applying the butter or cream cheese to each slice. This seems easy, but to cover each slice completely it can be a bit time-consuming.


Now place the sandwiches (no cucumber in them yet) in piles and place them in a tray that fits into your refrigerator, place a damp paper towel over them and cover with cling film.


On the day, take out the tray a few hours ahead of time and add the cucumber. They should be perfect by teatime!
This is a good method to use when making sandwiches with fillings such as cucumber or tomatoes, which tend to make the bread soggy.
Fillings with a lower liquid content may be placed on the sandwiches the day before and stored in the refrigerator, to be taken out and left at room temperature a couple of hours before serving.
Other Sandwiches for Afternoon Tea
You can serve other sandwiches in your afternoon tea. Let your imagination guide you in creating other great recipes. Here is a list of ingredients you may wish to consider:
Non-vegetarian options:
Vegetarian options:
Cherry tomatoes
Radishes
Apples
Seasoning:
Spreads:
Just remember that the idea behind these sandwiches is to create a snack and not to ruin your dinner.
Now it's up to you try your hand at making these sandwiches
Enjoy your cucumber sandwiches and your cup of tea!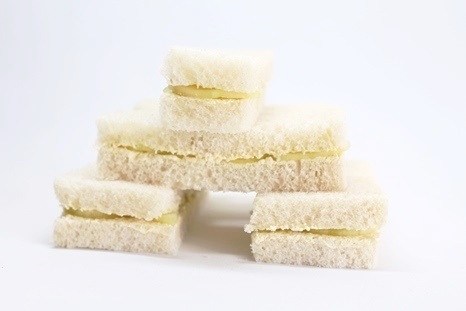 Return from Cucumber Sandwiches to Tea Recipes
Return to The Right Tea Homepage

"Tea is naught but this: First you heat the water, then you make the tea, then you drink it properly. That is all you need to know." - Rikyû, 16th century Tea Master

Do you have a question? Then feel free to Contact Us!
And don't forget to follow us on Facebook to receive updates, photos and interesting tips and news! Follow us also on Pinterest!