Darjeeling Green Tea
-

The Best Indian Green Tea
Grown in the Himalayas,
Darjeeling Green Tea
is a unique tea and an exquisite beverage.
While most green tea is produced in China and Japan, it is now finding its way to the tea plantations of northern India.
Are you ready to taste a new variety of green tea?
Every sip of this tea brings you a unique floral aroma, followed by a lingering nutty muscatel flavor typical of Darjeeling teas and unlike any other green tea, which makes it an unforgettable experience.
Come and enjoy a journey to where the best Indian teas are produced.
The Story Behind Darjeeling Green Tea
The Darjeeling tea gardens in northern India, in the mountains of Mahabharat range, also known as the Lesser Himalayan Range, have been producing tea since the 19th century.
At 2000m above sea level, these tea gardens offer excellent production conditions, with plenty of moist, sunshine and rainfall. Tea grown in this Indian district comes from the small-leaved tea plant camellia sinensis, and it is considered the best Indian tea.
For a long time Darjeeling was produced as a black tea, but more and more estates are now producing green tea and some are even going further to produce oolong and even white teas.
While Darjeeling black tea is classified into flushes, this particular green tea is not often classified by flush even though harvest time may affect its quality greatly.
Processing Darjeeling Green Tea
Although all types of tea grown in the Darjeeling estates are high quality teas sharing a common flavor, it is the subtle differences in the processing tea methods that allow for all four main varieties to exist.
In the particular case of Darjeeling green tea it undergoes the following steps.
The small tea leaves are carefully handpicked to ensure that a bud and two leaves from each shoot. Harvesting can be done from March to November, each season yielding a different flush.



Leaves are then dried and withered, a process that can take anywhere from 8 to 24 hours to allow for the excess water to evaporate.


The next step is to steam the leaves to prevent oxidation, which would turn the green tea into a black tea.


The leaves also retain their green color.


The leaves are then rolled and placed aside to dry, again helping to prevent any oxidation that would result in the loss of antioxidant and polyphenols.


Finally, the leaves are divided and graded and ready for shipping, soon to be made available for you to purchase.
Have a look at Darjeeling tea, for many more interesting details about this fine tea.
Darjeeling Green Tea Health Benefits
The particular processing method of Darjeeling green tea allows it to be packed with polyphenols and antioxidants, which makes this tea quite healthy and good for you.
Let s take a quick look at the main benefits of tea you can enjoy.
Healthy Heart and Low Cholesterol
Drinking this green tea on a daily basis may help lower blood pressure due to polyphenols present in the tea. Of course, it is important to drink it without sugar, but you will find that this tea does not need sugar as its flavor is amazing on its own.


Lowering bad (LDL) cholesterol levels is also very important to maintaining a healthy heart, so drink Darjeeling green tea and let the antioxidants attack cholesterol and it prevent the formation plaque that clog and block arteries.
Prevent Type II Diabetes
Green tea helps to regulate your blood sugar levels; this means that it has the ability to improve glucose tolerance and insulin sensibility, which will help you prevent type II diabetes.
Ward Off Flu Symptoms
Waking up sneezing and with a temperature is always a bad sign. In order to avoid getting worse, prepare yourself a cup of green tea as soon as you start feeling sick, to fight the bacteria and microbes that are keeping you down.


The high amount of antioxidants and polyphenols will give your immune system a boost and help you fight cold symptoms and the flu. Take it with a bit of honey for a sore throat.
Weight Loss Tea
The perfect combination of caffeine and antioxidants in Darjeeling green tea allows you to lose body fat much faster and in a healthier way.


The caffeine will help give you energy to work out as physical exercise is key to getting back into shape, and the antioxidants will help boost your metabolism so that food is better digested and wasted if eliminated faster from your body.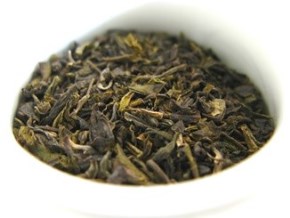 Improve Mental Health
Need to cut back on your caffeine intake but still need to remain focused and alert? Then try Darjeeling green tea.


As with any green tea, it contains a moderate amount of caffeine that helps you maintain your cognitive function.


At the same time, this tea also contains the amino acid L-Theanine that will help you feel calmer and less stressed. It s the perfect balance between energy and calm.


Have a cup of this green tea in the morning, embrace the freshness it offers and you will be ready to start a new day.
Better-looking Skin
Antioxidants are the great force that battles ageing. They seek out the free radicals that result from pollution, environmental changes, stress, bad food, etc. and help prevent damage to your cells.


By protecting your cells and DNA, your skin looks younger and fresher. At the same time, unseen to you, your cells are also being protected from certain types of cancer.
Fights Bad Foot Odor
Bad foot odor can be caused by the type of shoes you use, the heat or just a hormonal issue, but there is something you can do about it.


Fill your teapot with water and brew a few Darjeeling green tea leaves. Once it cools a bit, pour the tea in a spacious container and let your feet soak for about 10 minutes. The presence of tannins will help your feet smell better!

Drinking Darjeeling Green Tea
An exquisite and rare tea like this one deserves special attention and care when brewing.
So let s learn how to brew Darjeeling green tea, so that you can bring out its amazing and unique flavor and experience it to its best potential.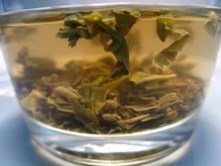 Water temperature:
65 C - 80 C (approx. 150 F 175 F)
Quantity:
1tsp/cup (250ml)
Steeping Time:
2-3 minutes
Rebrew allowed:
Yes
Milk:
No
Sweetener:
No
Tea Ware
This tea does not require special tea accessories to be brewed, but it is best enjoyed if brewed in fine china.


If possible choose a white tea cup for your tea so that you may admire its true color when brewing and learn to understand the strength of your tea from its color.
The Water
Heat the water, preferably spring water for a better flavor, to 65 C - 80 C (approx. 150 F 175 F). Use part of the water to warm your teapot so that your tea does not immediately cool down as it hits the cold walls of the teapot.
The Tea
Place one teaspoon of Darjeeling green tea per cup of water in your teapot.
Steeping
Pour the water into the teapot and then let steep for 2-3 minutes, without covering the pot so that the leaves aren t overcooked.


Your tea should have a light yellowish-green color.
Drinking
Strain your tea and serve it plain. The flavor of this tea is floral and nutty at the same time.


This is unique to this type of tea as it mixes the green tea typical vegetable flavor with the typical Darjeeling tea high quality nutty flavor.


Take a moment to smell the tea leaves after they have been brewed. They have an interesting aroma, very similar to other green teas.
Additional Tips
You can reuse the leaves for a second and third infusion. You may need to adjust the brewing time for the second and third brew. Flavor may be a little bit different with each brew, but quite interesting all the same.


Like all Darjeeling teas, this tea needs to be properly stored, so make sure you put the tea leaves in an air tight container and in a cool dry place to preserve the flavor, freshness and fragrance.
Buy Your Darjeeling Green Tea Today!
Click on the image or on the link below to purchase from
Vahdam Tea
your
Earl Grey Darjeeling Green Tea
.
This is a very special Darjeeling green tea with a citrusy flavor of the bergamot oil typical of Earl Grey teas.
This is a high grade tea and it is low in caffeine allowing you to enjoy your cup of tea later in the day.
Buy here: Darjeeling Green Tea

Enjoy a refreshing cup of tea and a refreshing tea moment!
Return from Darjeeling Green Tea to Types of Tea


Return to The Right Tea Homepage

"In the Taste of a single cup of tea you will eventually discover the truth of all the ten thousand forms in the universe."
- Attributed to Kyongbong Sunim, Ch'an (Zen) Master

Do you have a question? Then feel free to Contact Us!
And don't forget to follow us on Facebook to receive updates, photos and interesting tips and news! Follow us also on Pinterest!