Elderberry Tea

-
Nature's Cure for the Cold?
Coughing and sneezing? Well, Elderberry Tea may just be for you. It is made from leaves, flowers, root or fruits of the elderberry bush (sambucus nigra). This is certainly Nature's cure for the common cold.
This species of Elder is found in the warm regions of Europe and North America, reaching from 3 to 8 meters in height.

Elderberries are rich in vitamin C and have high levels of flavonoids and anthocyanin which give them their dark purple color. The Elderflower grows in large clusters. It is white and blooms in the late spring.
Mainly helping your respiratory system, this tea gives your body a good fighting chance.
Benefits of Elderberry Tea
It is ideal for treating colds and the flu.


Helps cure bronchitis.


It aids with asthma, coughing and it is used as a treatment for allergies.


Brings down fevers, as it makes you sweat.


It is a tea that has an anti-inflammatory effect.


It generally improves your immune system as it acts as an antioxidant and a tonic to clear your system.


The anthocyanins present also give this tea antioxidant protection against cellular aging.


Tea made from the root can be used as a laxative.


Helps the kidneys function by ridding the body of toxins.


It may help with arthritic and rheumatic pains.


Elderberry extract reduces the effects of LDL, the bad cholesterol.


It may be good for children with the measles and chicken pox.
Some external uses for
Elderberry infusions
:
The concentrated infusion made from elderflowers can be used to clean the eyes in case conjunctivitis.


Gargling the flower-based infusion may help treat inflammations in mouth and throat, tonsils and stomach.


Flower infusions are good for washing skin during inflammations such as acne, dermatitis, and warts.
Elderberry Tea Side Effects and Other Facts
Do not ingest too many elderberries as it may cause nausea and digestive intolerance.
Only the Elder species of sambucus nigra should be used for medicinal purposes and otherwise. Other species have been proven to be poisonous. So it's better to get your elderberry products from a store rather than risking any unnecessary harm.
Elderberries can be used in culinary world. Surely you've come across jams, wine and syrups made from this fruit and perhaps even soft drinks that have this flavor.

However, only the extract has been tested and proven in laboratories for its effectiveness as a cure for colds and the flu. Don't be put down if a jam doesn't have the exact same effect.
Drinking Elderberry Herbal Tea
When making tea from elderflower, consider the following suggestions: 20 to 30 g per liter of hot water. Let it rest for 10 to 15 minutes and then drink it hot three times per day.

Making tea from the leaves of elderberry should only require 15g of leaves per liter of hot water. Also let it rest for 10 minutes and then drink it three times a day.
Elderberry Tea using dried berries can made by adding hot water over 1 to 2 teaspoons of dried berries per cup (175ml to 300ml).

This tea will have a deep red color, depending on how long you let the dried berries steep in your cup, its taste will also seem stronger.

In fact, people have found that Elderberry Tea has a prune or raisin like taste to it, though perhaps not as sweet. So don't be afraid to experiment until you find the right taste for you.
Now here is a tip for you:

Take elderberry tea as soon as you feel those first symptoms of a cold coming on, such as headaches, sore throat, sneezing, etc.

It has been proven that if you take it within the first day, you are likely to start feeling better as soon as the next day and the illness itself will not last as long.
Sweeten it with honey or mix peppermint tea for further relief and soon you will be feeling as good as new.
Buy Your Elder tea Today!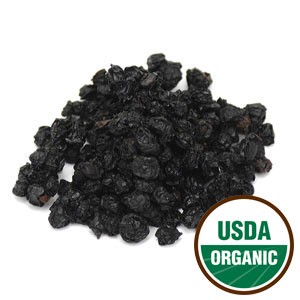 Click on the image or on the link below to purchase from
Starwest Botanicals
your
Elderberries
.
Make a vitamin-rich tea with these elderberries to boost your immune system. There is an organic option for purchase as well.
Buy here: Elderberries
Try Elderberry Tea today!
Return from Elderberry Tea to Herbal Teas


Return to The Right Tea Homepage

"While there's tea there's hope." - Sir Arthur Wing Pinero (1855-1934), British actor

Do you have a question? Then feel free to Contact Us!
And don't forget to follow us on Facebook to receive updates, photos and interesting tips and news! Follow us also on Pinterest!