The Right Tea Newsletter
–

Issue #29 - February 2020
Welcome to the latest issue of The Right Tea Newsletter!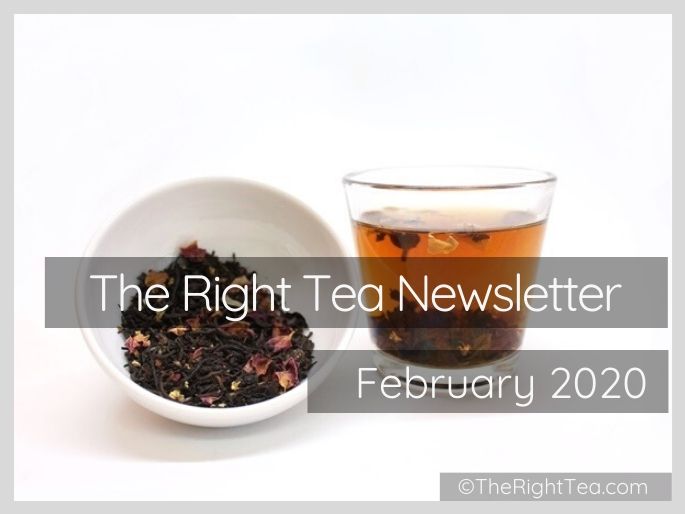 Do you know what to look for when trying a new tea? Do you simply make a cup of tea and taste it or is there more to it?
How and should you remain unbiased when experimenting with a new tea, even if it is just for yourself?
Reviewing a tea is a skill that every tea lover should have and in this newsletter we will be taking a quick look at what you need to look for when evaluating teas while analyzing a unique tea.
---
Reviewing Teas: Babingtons 125 Anniversary Tea
Reviewing a tea is much more than just tasting it and deciding whether you like it or not.
It is a way to describe the tea so that you can remember exactly what you meant by your description when you read it one week or a one month or one year later.
By being as impartial as you can possibly be in your tea reviews you can write up an accurate profile of a tea that will allow you to better understand your own preferences and to choose teas that suit you better in the future.
Let's review Babingtons 125 Anniversary Tea as an example of what to look for when analyzing teas.
What do you look at when evaluating a new tea?
Tea profile
Brewing conditions
Dry leaf
Infused leaf
Tea liquor
Overall impressions
Tea Profile
First you should take note of what tea you are drinking and write down details not only of the tea but also the brewing conditions.
Keep a notebook or a file on your computer with the reviews you write.
Brand: Babingtons
Tea name: Babingtons 125 Anniversario
Type of tea: Ceylon and Chinese black tea
Other ingredients: pieces of vanilla, natural aroma of honey, elder, rose petals, blueberries, juniper berries, Australian myrtle
Purchase details: Babington Tea Room in Rome, near the Spanish steps
Why do you need so much information? Let's suppose that you really enjoy the tea, you want to know where you bought it so that you can purchase more of it.
Over time, as your tea collection increases, it may be hard to keep track of all the details pertaining to each tea unless you write them down somewhere.
If you wish to add any more information to your tea profile, feel free to do so.
Brewing Conditions
Write down the brewing conditions and if this is the first time tasting the tea, follow the recommendations of the shop, as these are the most likely to result in a great tasting tea.
Weight: 2-3 grams (1 teaspoon)
Water temperature: 95ºC (boiling)
Time: 3-4 minutes
This is like the recipe for a cake, if you wish to make any changes, these are the main elements that may affect your tasting experience of this tea.
Dry Leaf
It's important to analyze the dry tea leaves because you will get an idea of what to expect from the infused tea even before you drink it.
You can determine which ingredients of the blend are artificial flavors or if they make up a part of the final tea blend. And you should be able to see if the tea leaves are still in good condition.
Appearance: the Babington tea is composed finely twisted dark brown tea leaves in varying sizes; it contains large pieces of rose petal in shades of bright pink and pale yellow small elder flowers; dark whole berries are visible.


Aroma: strong floral aroma of rose, this is the element that stands out the most like a perfume.
It's important to write objectively using references that you will be able to remember months or years after. There are no wrong answers, your description should be something you can relate to when you read back long after you have written it.
Infused Leaf
Why should you look at the infused tea leaves?
Well, after the leaves have been infused they open up and you can see more clearly the size, shape, pluck and cut of leaves that have been used to make you tea.
Buds, stems, and twigs become easier to tell apart from other leaves.
Appearance: tea leaves are a blend of brown and dark olive green tones in color. The leaves have opened up and it is possible now to see that although large the leaves are not whole.

It is possible also to see the rose petals that have lost their color. The small elderflowers, which are of a very pale yellow, make a lovely contrast with the tea. Additionally, the berries have become rehydrated and rounder.


Aroma: the leaves are sweet and aromatic, floral and rosy with a touch of tanginess of the berries.
Liquor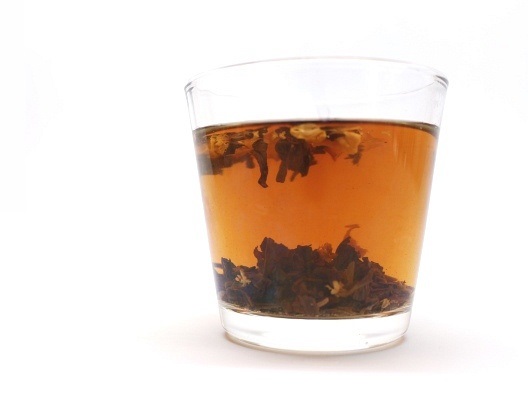 The brewed tea should be evaluated not only for its appearance and aroma, but also for its flavor, mouthfeel and aftertaste.
Appearance: the liquid is clear. Its color is a blend of bright red with a touch of brown and orange.


Aroma: Fragrant, floral and sweet, scent of rose comes through and as do mild notes of berries.


Taste: Medium bodied tea, floral, with clear notes of rose, blended with tanginess and sharpness of the berries. It is not astringent, and causes no dryness in the mouth. Also it does not leave a long-lasting aftertaste.
This is a lovely tea that is faithful in aroma from dried tea blend to brewed liquor. The same aromas found in the dried leaves can be found in the hot tea.
The berries and flowers give an aroma and sweetness to the tea that make unnecessary to add any sweeteners. Milk would probably drown out the delicate floral aromas and flavors.
You should also perform this test when the tea cools down. It could help you to know if you have on your hands a great iced tea ideal for the summer days.
You may also want to rebrew the tea and see how many times you can reinfuse the same leaves and register how flavor and aroma changes with each reinfusion.
Final Considerations
Now it's time to think over all the information gathered and make a final assessment.
If this tea is for your enjoyment alone, remember that brewing recommendations suit the majority of the people, but not necessarily everyone.
There are a number of questions you can ask yourself:
Did you like the tea as you brewed it?


To better satisfy your palate, are there any changes you would make to the brewing conditions? You may want to try using more or less tea, alter the temperature of the water, etc.


If you enjoy milk with your tea, do you think this is a tea that could go well with a splash of milk?


Do you think this tea needs a sweetener or a squeeze of lemon juice?


What adjustments would you make to make this tea an even better experience?


And let's not forget food pairing. Would this tea go better with a sweet or a savory snack or should you drink it on its own?
Be as honest and impartial as you can when you go through these and any other questions you come up with. The idea is to brew the best possible cup of tea for you.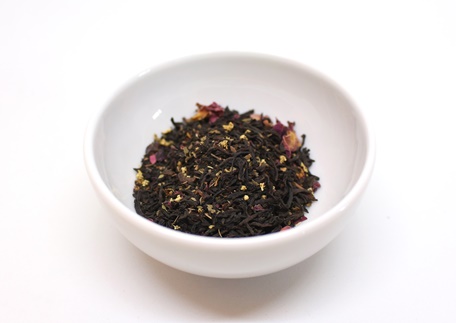 Review all your teas and achieve your perfect cup of tea!
---
What's Next?
More articles about tea are coming, so keep on the lookout for the next issue of our newsletter. While you wait, look around our website and learn more about tea and its health benefits.
Until then make sure to follow us on Facebook for daily tips and other wonderful tea related items.
Follow us also on Pinterest!
---
Comments / Suggestions
If you have any comments or suggestions regarding this newsletter or anything you would like to see on the website, make sure to contact us using the form you will find here:
---