The Right Tea Newsletter

–
Issue #35 - April 2021
Welcome to the latest issue of The Right Tea Newsletter!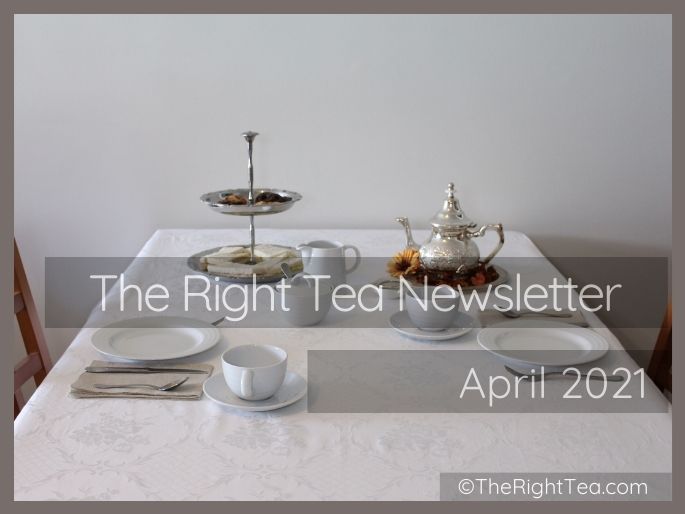 In many countries, lockdowns have been imposed over the last year and we've all had to put our lives partly on hold. However, if all goes well, we should be soon be able to host tea parties and fancy afternoon teas.
While we wait, we can still try to enjoy a simpler version of this traditional British meal. With a few basic elements we can set up the table and breaking a bit from the routine of the daily stress.
So, in this issue will be looking at some of the items present in an afternoon tea and making a few suggestions to make this and any future tea parties you host more fun for you.
---
A Simple Afternoon Tea
Afternoon tea is a traditional tea ceremony that dates back to 18th century Britain. Now, while there is a list of strict rules of etiquette regarding this meal, if you are hosting this for your friends and family it's up to you to choose what rules to follow and which ones to ignore.
Sure, sticking out your finger when holding your cup is considered poor etiquette, and slurping your tea noisily is viewed as rude and off-putting in almost all situations except when tasting teas professionally.
However, this does not mean that you have to dress formally (you can, if you want to) or include all the trimmings when serving a tea just for one or two people.
Setting the Table
Table protector pad – this is an essential item as accidents will happen, and someone always buts the hot teapot down where they are not supposed to or tea spills no matter how careful we try to be.

Make sure to choose a pad that is heat-resistant and easy to wipe down afterwards. This will keep your table looking great for years without scratches, heat marks or stains.


Table cloth and napkins – This is a great opportunity to use your fancy linen. If you don't have a set that includes table cloth and matching napkins, use plain napkins so that the patterns don't clash.

If you are hosting a tea party with children then its best to choose paper napkins and have fun choosing ones with colors and patterns that fit your theme.
Choosing the Tea Ware
Teapot – choose a teapot that is big enough to serve the number of guests at the table (or consider doubling the number of the teapots).

The last thing you want is to have half your guests with empty cups and the other half with their tea cooling in their cups as they wait for you to pop into the kitchen to heat up more water.


Tea cups – no mugs! If you don't have enough cups in one tea set to serve all your guests, consider either using all mismatching cups, or to use one set for half your guests and another for the other half alternating the cups around the table.



Strainer - If you are serving loose leaf tea in a teapot without an infuser, then it is best to have a strainer next to each guest. It's a small item that won't take much space and that way it doesn't have to be passed around as people refill their cups.
Brewing the Tea
Heating the water - consider purchasing an electric tea kettle if you don't already have one. When serving multiple pots of tea, you not only want the water to heat up quickly, but also to be able to safely step away from the kettle and attend to your guests while the water boils.


Refilling the teapot - If you do have to go into the kitchen to refill the teapot half way through your tea party consider making this an opportunity and not an interruption.

Here is a fun suggestion: make your gathering into an amateur tea tasting experience. Ahead of the party choose four or five teas that will all pair well with the food you are serving. At the beginning of the meal, let your friends choose one or two teas that they would like to try.

When it comes time to refill the teapots, ask if your guests would like to continue with the same tea or change to the other one selected.

Be prepared with a different teapot so that you may be able to please those who wish to continue with the same tea and those that may want to try the new one.


Milk and lemon – include these two elements only if your tea pairs will with these elements. There's no need to include milk if you are serving a green or white tea, for example.


Sugar – sugar cubes are a better solution for a tea party because there is less of a risk of spilling sugar on the table. While you may recommend that your guests drink their tea unsweetened, if you are serving a very strong tea it's best to have sugar available and no judgements.
The Food
Prepare ahead - check for any allergies with your guests when you are picking out items to include in your afternoon tea.

It would be unfortunate to serve your favorite seafood sandwiches to that guest that is allergic to shrimp or seeing the one who can't eat nuts having to miss out on one of your prized tempting sweets.

Take it from me, it can be torture looking at something delicious and having to repeat to yourself over and over that you can't eat it.



Plates and silverware – Choose plates according to the size of the food you are serving. Most afternoon teas call for finger food, so there is no need for dinner plates.

Just in case, check that your savory sandwiches fit perfectly into the plates you choose. No one wants part of the filling dropping off the edge of the sandwich and on to your beautiful table cloth.



The tiered stand – the traditional stand has 3 levels: sandwiches on the bottom, scones in the middle and sweets on top.

However, if you having tea with just one friend, a two-tiered stand should be just fine: bottom layer for savory items and the upper one for the sweets.


The Cream Tea alternative – this is a simpler alternative to the full menu of the afternoon tea. It's just tea and delicious scones with jam and clotted cream.
Decorative items
Spotlessly clean – double check that your table cloth and napkins are clean. You don't need to use your family's most prized linens, but a stain may take away from the fun of creating a fancy afternoon tea mood.


Simple – flowers are a wonderful element that add a touch of color to any table. Fresh flowers are gorgeous, of course, but a small bag of dried flowers may also be an easy way to go as you can spread these around to create a spring-like decor.


Fancy – Get the napkin rings; create place cards using a calligraphy pen and your best artistic skills; grab the silver candlesticks; make a beautiful centerpiece for your table and why not ask your guest to dress formally for your party.


Themed – go to party and novelty shops for paper lanterns, banners, special napkins, place holders. These are perfect to create themed holiday or kid tea parties.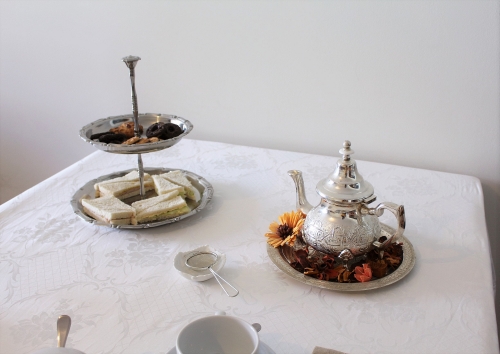 I hope you found some of these tips useful and that they inspire you for future tea parties.
In the end, the most important thing is to have fun and to continue exploring the world of tea and its rituals.
Enjoy your tea and have fun!
---
What's Next?
More articles about tea are coming, so keep on the lookout for the next issue of our newsletter. While you wait, look around our website and learn more about tea and its health benefits.
Until then make sure to follow us on Facebook for daily tips and other wonderful tea related items.
Follow us also on Pinterest!
---
Comments / Suggestions
If you have any comments or suggestions regarding this newsletter or anything you would like to see on the website, make sure to contact us using the form you will find here:
---