The Right Tea Newsletter
–

Issue #38 - July 2021
Welcome to the latest issue of The Right Tea Newsletter!
As travel restrictions begin to be lifted, the urge to travel and try new things is even more present. Visit new places, eat new things, or drink new kinds of tea in interesting places.
In the spirit of this, in this issue we will be looking at the wonderful experience of enjoying an afternoon tea in a beautiful tearoom. And the best way to do so is to share one such visit to one of the most beautiful tearooms in London.
In June 2019, I had the pleasure of sharing an afternoon tea at the Diamond Jubilee Room at Fortnum & Masons in London with a friend.
So, come along and be inspired to add "have an afternoon tea at a wonderful tearoom" to your bucket list.
---
Tea at the Diamond Jubilee Tearoom
In June 2019 a friend invited me to visit her in London to go visit a special exhibit at the British Museum. We decided that a visit to a tearoom for an afternoon tea would be a great way to make the visit extra special.
We browsed the internet, we asked for advice from friend and colleagues, and in the end everyone and every website seemed to point us in the direction of the tearoom at Fortnum & Masons.
The History of the F&M Tearoom
Fortnum and Mason first opened in 1707 in Piccadilly, London, just two years after William Fortnum and Hugh Mason met, two entrepreneurial minds set on finding great products to sell to the British public.
The store provided a variety of products from wax candles to the first Scotch Egg, among many other food items that were supplied to all, soldiers and royalty alike. In the mid-19th century, they received special commissions from the Queen.
In the beginning of the 20th century, F&M were challenged to create the finest tea at the request of King Edward VII. Blending Assam tea from India with a Flowery Pekoe from Sri Lanka, they created their famous Royal Blend as a gift to the king.
In the 21st century F&M created its own hives to produce honey, started growing its own herbs and vegetables to produce more sustainable local products to be served at its restaurants.
In 2012 the Diamond Jubilee tearoom open its doors. It was inaugurated by her Majesty Queen Elizabeth II and the Duchesses of Cornwall and Cambridge.
Booking and Getting There
The Diamond Jubilee Tearoom is on the 4th floor of the Fortnum & Mason store at Piccadilly (181 Piccadilly, St. James's, London W1A 1ER).
When you get to the store you will be amazed by the size of a tea shop that occupies a whole building.
You can either go up the steps to the fourth floor and be tempted to stop on each floor on your way up, or just take the elevator straight up.
It is highly recommended that you book your afternoon tea ahead of your visit. We got to the tearoom a little ahead of our slotted time and as we waited to be seated, I saw couples and groups arrive and disappointedly leave as there was simply no vacancies for walk-ins.
Remember to check out their website not only for bookings, menu, but also for their health and safety recommendations. While other sites my offer you all other relevant information, on this last topic, make sure to check directly with the tearoom you are visiting.
The Diamond Jubilee Tearoom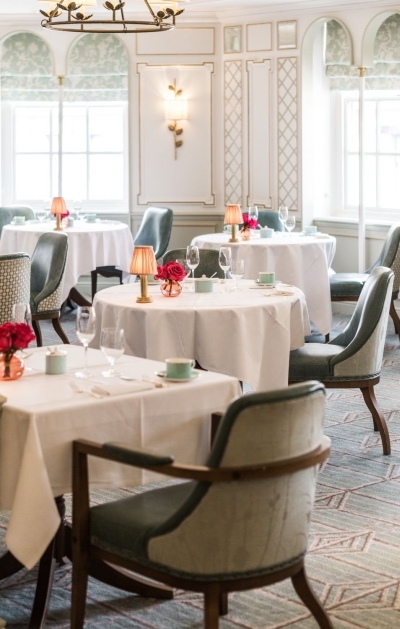 The ambiance of the Diamond Jubilee tearoom is so refined and exquisite that you have a hard time believing that it has only been opened for a few years considering the centuries of history that Fortnum and Mason now have.
It was first the apartment of the Fortnum family, at one point it was the interior decorating department, then an antiques department and the St. James's restaurant. Now it is a place to enjoy the finest afternoon tea.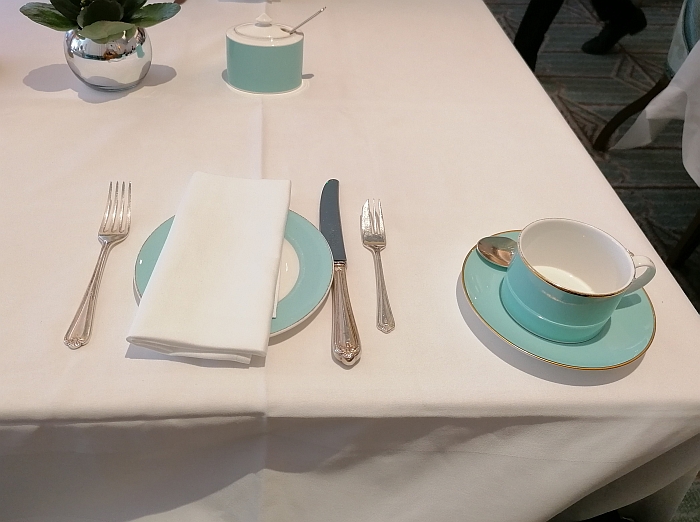 The tearoom itself is decorated in soft colors and golden highlights. There is an atmosphere of elegance and refinement that really creates the perfect mood for your meal with friends and family.
The china teaware used in the tearoom is the St James set, made up of beautiful pieces that are both simple and at the same time perfect match the colors of the tea room.
The Menu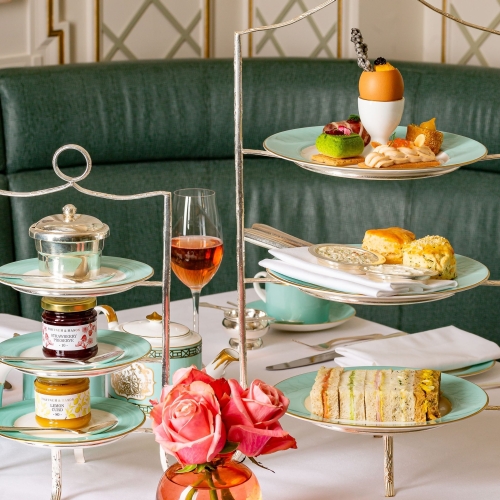 The Jubilee tearoom has many options on their menu. From the traditional afternoon tea or its savory alternative, high tea, a vegetarian afternoon tea. If you wish there are also vegan, gluten-free, and diary-free options. And, of course, there is also a children's menu.
Your afternoon tea includes the possibility of choosing from their wonderful selection of teas. You may also add to your meal other drinks, such as champagnes, cocktails, wines, soft drinks or hot beverages.
The Afternoon Tea Experience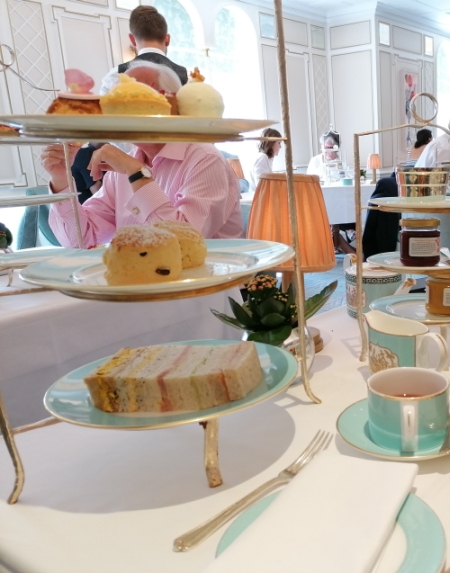 I chose the traditional afternoon tea and paired it with a cup of their Royal blend. I love to try the house blend whenever I visit a tearoom for the first time as it is a tea that I will not find anywhere else and has been designed to best fit their menus.
My friend, who has less of a sweet tooth, chose the savory afternoon tea option, so we could compare our meals.
They bring a three-tiered stand with the food items in perfect order:
finger sandwiches at the bottom: the same whether in traditional or the savory option;


scones in the middle tier: fruit and plain ones for me, savory scones for my friend;


top tier patisseries: deliciously sweet patisseries in the traditional option and savory miniatures for the savory menu.
In a smaller tiered stand came the cream, and small jars of jams and curd to put on the scones, in whatever order we wished or combinations we wanted of jams, curd and creams.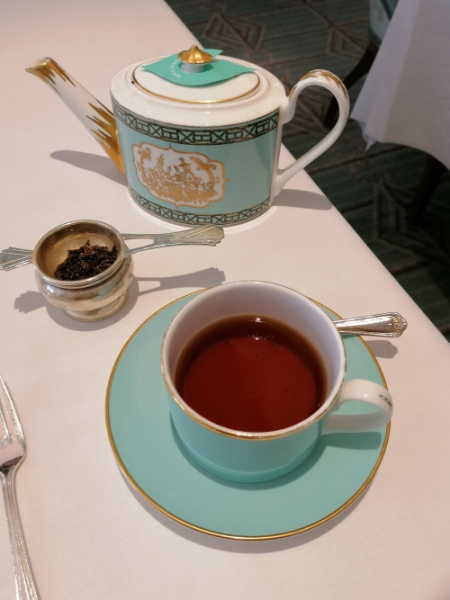 And finally, a teapot for each with the tea of our choice. The F&M Royal Blend is a blend of Ceylon and Assam teas first created in 1902 for King Edward.
It is a beautiful tea that is dark-amber to red in color, with a smooth and honey-like flavor. It is a magnificent tea.
You can ask for refills of your tea or extra scones and sandwiches if you wish at no extra cost. This is a nice thing, but I would advise to only ask for extra food items if the tearoom is not too crowded. More tea, yes, go ahead and ask for that.
In June 2019, the tearoom was full and therefore they took a long time to bring us a second serving of scones. As time passed, we began to feel full so, by the end, when we were invited to choose a piece of cake from the trolley there was no room for anything else. I was really sorry for this, as the cakes did look so amazing.
Visiting the Store
After enjoying our afternoon tea, we made our way down the store stopping on each floor along the way.
I highly recommend that you leave your visit to the store as you descend from the tearoom, because you will now come across some of the items of tasted during your meal and may wish to take home.
The 2nd floor is dedicated to fragrance and beauty, where you will come across accessory and luxury items.
The
1st floor
is where you may start feeling tempted to purchase items to recreate the afternoon tea experience at home as this is where you will find tea sets to your heart's delights. You may purchase pieces of the St James tea set here.
There is even a Great Wall of Teapots filled with historical items with information for your enjoyment.
As you reach the
Ground floor
you may really have a hard time resisting making a purchase… well, at least I had!
This is where you will be able to purchase from the vast variety of teas in the F&M brand, so you can buy the tea you tasted during your meal.
Then lose yourself in their selection of jams, marmalades and numerous other spreads. I took home a jar of their wonderful lemon curd, strawberry jam and orange marmalade. It was like taking a piece of my afternoon tea home with me. There are still biscuits, chocolates, honeys and coffee.
On the Lower Ground floor, you will find the fresh food hall with a variety of items from meat, fish, baked goods and cheese from all over.
In conclusion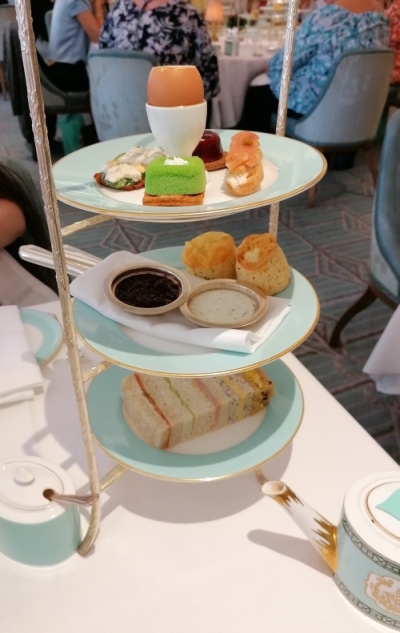 Upon leaving the store we took a long walk afterwards feeling full and content.
This was a wonderful experience that I'd recommend to everyone to try at least once.
There are many options for different price ranges and ambiances, so there is bound to be something that fits everyone.
As for me, next time I have the chance to go to London, I'm going to enjoy another afternoon tea.
Finding out how other places fare against the wonderful Diamond Jubilee tearoom is a wonderful challenge to have, don't you think?
How about you?
Where would you like to enjoy an afternoon tea?
---
What's Next?
More articles about tea are coming, so keep on the lookout for the next issue of our newsletter. While you wait, look around our website and learn more about tea and its health benefits.
Until then make sure to follow us on Facebook for daily tips and other wonderful tea related items.
Follow us also on Pinterest!
---
Comments / Suggestions
If you have any comments or suggestions regarding this newsletter or anything you would like to see on the website, make sure to contact us using the form you will find here:
---