Scone Recipe

- 
Easy and Fun!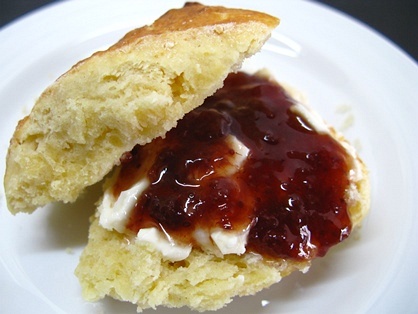 Learn to make scones with this quick
scone recipe
so that you, too, can enjoy a nice treat with your cup of tea.
Scones are somewhere in between cakes and quick breads, and resembling in texture to an American biscuit.
They are usually made with wheat flour, sugar, baking powder, butter, milk and sometimes eggs, but you can always add your own personal touch to them.
Let s head to the kitchen and get baking!
But first, let s learn a bit more about scones.
Where do scones come from?
The first time that there is a print record of scones ever being mentioned was in 1513 by a Scottish poet. Traditionally, they are related to an ancient Welsh tradition cooking small round yeast cakes primarily on bakestones and later on griddles (broad flat cooking surfaces).
Some claim that scones are named after the Stone (scone) of Destiny, a stone upon which Scottish kings sat in coronation; others say that the name derives from the Gaelic term "sgonn", meaning "a shapeless mass or large mouthful".
The scone may also be related with the Dutch "schonbroot", a fine white bread, or with the German "sconbrot", meaning fine or beautiful bread.
The original scone recipe was made with oats and shaped into a large round that was then cut into 4 or 6 wedges and baked in a griddle over an open fire (later substituted for a stovetop).
They became more popular and essential to the ritual of taking tea in England when Anna, the Duchess of Bedford (1788-1861), one late afternoon, ordered her servants to bring in tea and sweet breads, which included scones.
She was so delighted that she ordered scones to be served in every afternoon in what soon became the English tradition of "Afternoon Tea Time", at precisely 4:00pm.
How should you pronounce the word "scone"?
You may have heard it pronounced in two different ways and both are correct: in Scotland and Northern England the word is pronounced "skahn" (rhymes with gone) whereas in the south of England, as well as in the U.S. and in Canada, the word is pronounced "skoan" (rhymes with tone).
If you bake them yourself, you can pronounce "scones" anyway you like, they will always taste great and you made them!
Basic Scone Recipe
Baking the plain scone recipe requires a few common ingredients that are easy to find.
Ingredients:
2 1/2 cups/ 300g self-raising flour
2 1/2 oz/ 75g cold butter
1/2 level teaspoon baking powder (if you are using plain flour use 2 level teaspoons)
1/2 level teaspoon salt
1tbsp/ 12.5g sugar (you may go without sugar if you want savory scones)
2 large eggs
3.5oz/ 100ml milk
The Scone Recipe:
Preparation Time: 30 minutes (approx.)
Baking Time: 12-15 minutes
Instructions:
Start by preheating the oven to 220 C / 425 F.


Grease a baking sheet. The recipe already has butter, so grease the sheet very lightly so that the scones do not stick to the surface during baking.


In a large bowl combine the dry ingredients: the flour, salt and baking powder.





Rub the butter into the flour using your fingertips until the mixture resembles fine breadcrumbs. If your hands tend to be warm then it may be easier using the food processor and pulsating until you obtain a crumble.


Add the sugar, mixing it in with your hands.





In a separate bowl, beat the eggs and add the milk. This prevents eggshells from falling into the mixture or adding an egg that is not good and spoiling the dry ingredients.


Make a well in the center of the bowl of the dry ingredients using a regular kitchen knife, then slowly add in the egg and milk mixture make sure to set aside about 2 to 3 tablespoons for glazing the scones later.


With the knife, stir to mix the eggs and milk with the rest of the ingredients until you get a soft dough.





Turn the dough onto a work surface and knead very lightly until just smooth. Flatten the dough with your hand or roll out to a 2cm thick disk.


Using a round cookie cutter cut the dough by pushing the cutter straight down into the dough and then lifting it straight up (do NOT twist or wriggle the cutter to get it loose because then the dough will stick together and doesn t rise evenly, losing its shape while baking).

Note: if you don t have a round cutter, you just cut the disk into wedges much like it was done in the original scone recipe.


Gently push the remaining dough together and lightly knead it, re-roll and cut out more scones as before.


Place the scones on the baking sheet and brush with the remaining egg and milk mixture.


Bake near the top of the pre-heated oven for 12 to 15minutes or until golden brown and well risen.





Cool on a wire rack before serving (if you serve them right away they will seem doughy and you are likely to burn your mouth especially if you added ingredients that may retain liquid such as raisins).
It may seem to have many steps, but this is a really easy scone recipe!
Taking your Scones to the Next Level
Now that you have learnt to make regular scones, it is time to use your imagination and create unique variations and original flavors.
Here are just a few ideas to get you started:
For fruit scones: add 55g (1/4 cup) of sultanas or chopped raisins to the dried ingredients in the basic recipe.

You can later adjust the amount of raisins, but be careful not to add too many as your scones may have trouble holding their shape.


For cheese scones: add 55g (1/2 cup) of grated cheese and 1/2 teaspoon dry mustard powder to the mixture (leave out the sugar in this recipe) after rubbing in the butter and flour and continue with the basic recipe. Sprinkle the scones with an additional 55g (1/2 cup) more grated cheese before baking them in the oven.


For chive and goat cheese scones: add 1cup of crumbled goat cheese and 1/4 cup of chopped fresh chives to the dry mixture (leave out the sugar again) before adding the egg and milk.


For fresh herb scones: add 1/4 cup of freshly chopped parsley (or 2 teaspoons of dried parsley), 1 1/2 teaspoons of dried thyme and 1 teaspoon of freshly chopped rosemary (or 1/3 teaspoon of dried rosemary) to the dried ingredients before adding the egg and milk.
It is your turn! Don t be afraid to experiment with this scone recipe and add flavors you love.
How to Best Enjoy Your Scones
In Britain scones are still served daily with the traditional clotted cream and jam topping.
What is clotted cream, exactly?
Well, it is a silky, pale yellow cream that holds a fine distinctive crust on the surface. This special cream is made by indirectly heating unpasteurized cow s milk using steam or a water bath, and leaving it in a shallow pan for many hours, causing the cream to rise to the surface in "clots" or "clouds".
This cream should have a thick and smooth feeling and contain at least 55% butterfat. It originally comes from Devon and Cornwall in the South Western region of England but nowadays it is also successfully produced in Yorkshire. Many describe clotted cream as having a "nutty, cooked milk" flavor.
Which should be spread first on the scone? The jam or the cream?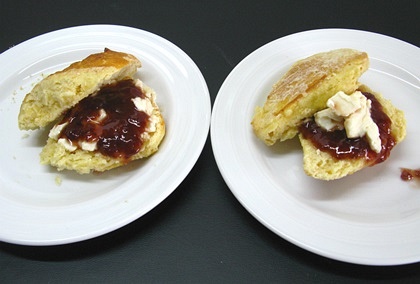 An interesting discussion about scones is whether they should be eaten spreading jam or clotted cream first.
The debate is divided between those who use the Cornwall approach - jam first, then cream and those who prefer the Devon approach cream first and then jam.
One could argue in favor of the latter, but this is just one opinion, saying that this way the scone itself won t be soaked with jam and that the cream creates a natural impermeable barrier between scone and jam, enhancing both flavors.
Both approaches however, seem to be in agreement that a scone should never be eaten like a sandwich squeezing the two halves together will result in a catastrophic spillage of jam and cream all over your hands. A scone should be cut in half, then you should cover each half with cream and jam (or jam and cream if you prefer it) and then eaten separately.
But what about savory scones?
According to the scone recipe above, savory scones usually have little to no sugar in the recipe and will probably not taste well if covered in a sweet jam.
Consider alternatives such as:
Butter good quality butter at room temperature will melt as you spread it on your warm scones.


Cream cheese this could be well suited for scones with a good blend of aromatic herbs. It is best served cold and can be a great treat to have at breakfast and with your afternoon tea.


Yoghurt sauce this could be a good idea for scones that are strong in cheese and could use a lighter touch. Simply add chopped chives and olive oil to plain yoghurt and mix in a bowl.


Your homemade sauce get creative and experiment!
Are you ready to try this scone recipe?
Most importantly have fun
and enjoy a good scone with your tea!
Return from Scone Recipe to Tea Recipes
Return to The Right Tea Homepage

"Tea is naught but this: First you heat the water, then you make the tea, then you drink it properly. That is all you need to know." - Rikyû, 16th century Tea Master

Do you have a question? Then feel free to Contact Us!
And don't forget to follow us on Facebook to receive updates, photos and interesting tips and news! Follow us also on Pinterest!