The Right Tea Newsletter

–
Issue #14 - November 2017
Welcome to the latest issue of The Right Tea Newsletter!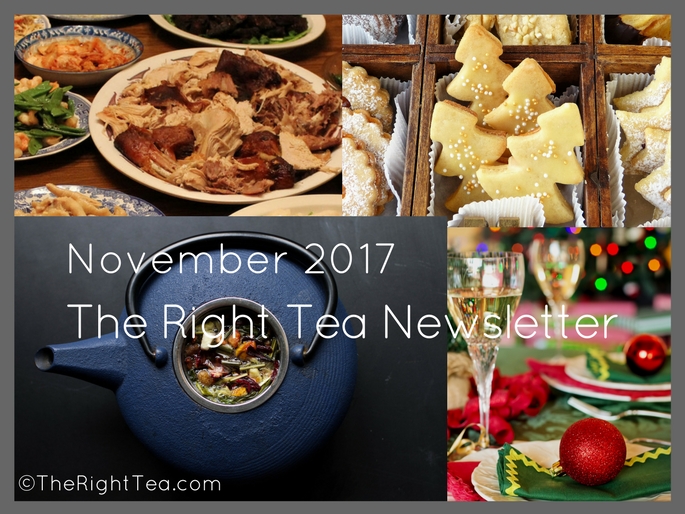 In this issue we are preparing for the holiday period! We are going to look at suggestions for 5 herbal teas that can improve your digestion.
You can also find a few suggestions to help make the holiday season easier.
Let us also introduce you to the newest tea on our website, a tea that may help you after a bad fall or simply help reduce acne.
---
Digestive Teas – Getting Ready for the Holidays!
November is here and the holiday season is just around the corner.
This is the time of the year to toss out any plans of dieting! Be it sweet or savory, it is hard to resist all the amazing delicacies that come with the season.
Why should you be prepared?
Even if you plan not to eat too much or just eat healthy food, there is always the risk of eating that one thing that ruins the whole day for you.
Sometimes your stomach is just not ready for the heavy digestion some of seasoning and sauces winter dishes require.
It has been more than 10 years and I still remember how all the family got sick from eating oysters on Christmas day. It was a thoughtful experiment, but I'm not touching the stuff again as long as I remember the stomachaches.
So the idea here is to suggest a few herbal teas that you can stock up on prior to the holidays so that you don't have to find an open shop when you can barely move.
Herbal Tea Suggestions
Here is a list of herbs that can help you digest food better, but at the same time, they are also great seasoning herbs that you can resort to for any last minute cooking.
Of course there are many other herbal teas that are great for your digestion, which are also very useful when cooking during the holidays, such as:
Other Suggestions to Spice Up your Holidays!
If you are serving heavy dishes this holiday season, take some preventive action. After each meal serve a cup of herbal tea as a non-alcoholic digestif and prevent indigestion before it has time to set in.


Create a tea bar: set up on a side table with small mason jars with herbs (remember to label each jar); have mugs ready with infusers. Have the water kettle ready for use and let each person brew an herbal tea as needed.


If you have family coming over, purchase those small mug or cup identifiers. In my family we are only 6 to 8 people for Christmas and it doesn't take much for one of us to lose track of which mug is whose.


And remember, if you have been in the kitchen all day making sure there is enough delicious food for everyone: you, too, deserve a break. So sit down and have a nice cup of tea to help you relax and restore your energy.
These are just some simple tips to inspire you and reduce the stress of the holiday season!
Learn more about these and other digestive teas:
---
NEW! – Comfrey Tea
Best known for its tissue-repairing abilities, comfrey tea is an herbal infusion that you may apply to your skin to treat a number of problems.
From torn ligaments to broken bones, this tea may help regenerate cells structures, relieve pain and reduce inflammation.
Learn all about how you can make this tea here:
---
What's Next?
More articles about tea are coming, so keep on the lookout for the next issue of our newsletter. While you wait, look around our website and learn more about tea and its health benefits.
Until then make sure to follow us on Facebook for daily tips and other wonderful tea related items.
Follow us also on Pinterest!
---
Comments / Suggestions
If you have any comments or suggestions regarding this newsletter or anything you would like to see on the website, make sure to contact us using the form you will find here:
---