The Right Tea Newsletter
–

Issue #30 - March 2020
Welcome to the latest issue of The Right Tea Newsletter!
Cucumber sandwiches are a treat typical of the British afternoon tea. However, there is nothing that says that you can't enjoy them in the comfort of your own garden or balcony.
These sandwiches date back to the Victorian era, but modern versions of the recipe have sprouted all over and new modern takes may be as enjoyable as the real thing.
Let's take a look at this treat as temperatures begin to rise and cool snacks are in order.
---
A Look at the Cool Cucumber Sandwich
Spring is here! Days are getting longer; the weather is getting warmer and the sun is shining (just ignore those April showers).
Enough of the warm dishes of winter, it's the perfect time to give a chance to fresh cool vegetables and create an afternoon snack for all to enjoy.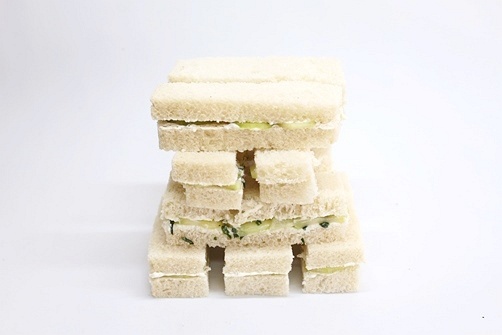 Cucumber Sandwiches – Looking Back
Since the 1870s the cucumber sandwich has been part of the British afternoon tea. First, as a refreshing way to battle the heat of colonial India and then as a refined light snack enjoyed by the upper class of England.
Today these sandwiches may be enjoyed by all, but it still remains a symbol of the refined ceremony of the fancy afternoon tea.
Cucumber Sandwiches – Looking Inside
The traditional recipe for cucumber sandwiches requires few ingredients:
White bread
Cucumber slices
Butter
Salt and pepper
These sandwiches are easy to make.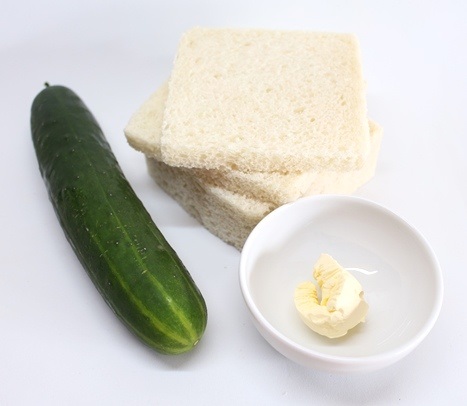 Begin by peeling a cucumber and slicing it into the thinest slices possible and then season them with salt. Taste before using.
Then butter both slices of bread thoroughly. This will create a barrier between the bread and cucumber that may help prevent your sandwich from turning soggy.
Place the slices of cucumber on one of the pieces of bread in such a way so that they just slightly overlap, this will ensure a thin sandwich. Make sure that all the bread is covered with cucumber.
Now, season with pepper, freshly crushed or powdered, whichever you prefer. Then cover the cucumber with the second slice of bread, cut the crusts off.
Finally, cut the sandwiches into rectangles or triangles. This is up to you, but the objective is to make sure the sandwiches are as similar as possible.
Tips:
Pat the cucumber dry before placing it on the bread, this will again prevent your sandwiches from going soggy.


After experimenting with a serrated knife and a wide-bladed knife, I found that the serrated knife destroys the delicate white bread and ruins the clean-cut look that a wide-bladed knife can achieve.
These sandwiches will pair well with any tea, as the cucumbers are not overpowering and allow you to still fully taste the flavor of your tea.
Cucumber Sandwiches – Looking Around
Many modern recipes for cucumber sandwiches have been created since the times of colonial India. Make use of the variety of ingredients you already have in your kitchen.
Cream cheese – the most common ingredient to replace butter. There are many options available with different flavorings. Just test what pairs well with cucumber.





Mayonnaise – some recipes recommend mixing this ingredient with cream cheese, but if you want to keep your sandwiches on the lighter side, you should skip this one.


Herbs – dill and chives add another layer of flavor to your sandwiches.


Other vegetables – radishes, tomatoes, and any other element your imagination and preferences permit.
And as we are being recommended to stay home, this is a good time to: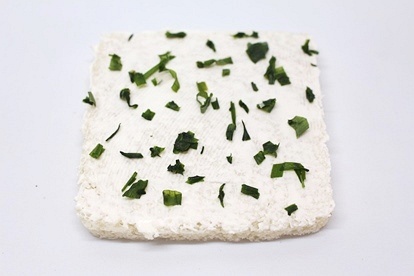 Explore what ingredients you have at home and make the most of them without the need to perform additional visits to the shops.


This could be a good time to improve your cooking skills and come up with your own recipes for cucumber or any other afternoon tea sandwiches. Get ready for a time when it will be okay to have social gatherings again.


We tend to cook what we know and it may get repetitive. The advice here would be to try to reinvent these sandwiches in ways that you and your family never get bored of them.


You can also create more heartier versions of the simple and delicate cucumber sandwiches to prevent constant snacking. This is an issue some face when being at home all day long.


Be fancy when serving these sandwiches. Transform you afternoon break into a fancy affair. You and the people in your home should enjoy the fancy tea cups and the tiered stands. Therefore, use them, have fun and be creative.


If you are lucky and have your own garden or balcony, enjoy your teatime outside when the weather permits it.
Cucumber Sandwiches – Looking Forward
If you like these sandwiches, you may want to think ahead.
If you have a vegetable garden, see if it is possible to grow cucumbers where you live.


If you have a small balcony or a few vases by the window, don't be discouraged, you can plant your own herbs and have plenty of ingredients to season your sandwiches over time.


It is possible to prepare these sandwiches ahead of time. You can butter the bread, a time-consuming task, ahead of time and keep it in the refrigerator for 24 hours before serving.
Do you want to learn more about cucumber sandwiches and look at the recipe in more detail? Also, why not get other ideas to create interesting variations of the traditional recipe?
Read more at the cucumber sandwich page: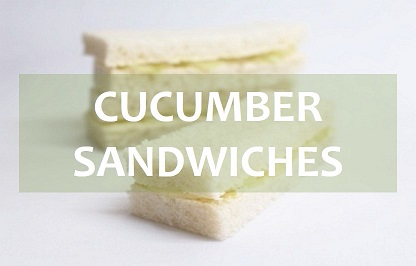 ---
What's Next?
More articles about tea are coming, so keep on the lookout for the next issue of our newsletter. While you wait, look around our website and learn more about tea and its health benefits.
Until then make sure to follow us on Facebook for daily tips and other wonderful tea related items.
Follow us also on Pinterest!
---
Comments / Suggestions
If you have any comments or suggestions regarding this newsletter or anything you would like to see on the website, make sure to contact us using the form you will find here:
---