Parsley Tea

–
One in the World of Cleansing Teas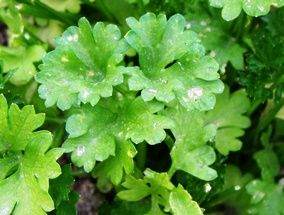 Parsley Tea
may be the cleansing tea you are searching for.
You're probably more familiar with parsley as a green herb used to bring flavor to your dishes and garnish your salads than as a medicine herb.

The benefits of parsley are numerous and as a tea, it may help to cleanse your system as well as it may be the solution for irregular menstruation and cramps.
What is Parsley?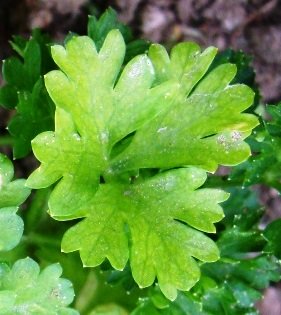 Parsley herbal tea is essentially made with the leaves of the green biennial parsley herb
(petroselinum crispum)
.
Parsley is a biennial plant that reaches 30cm in height, with composed leaves of bright green color.
The leaves can be either flat or curly, with white small flowers in bunches with small seeds.

Parsley eaves are picked in the spring and again in the autumn.
Parsley Varieties
There are several kinds of parsley: curly parsley, which is the most used; flat leaf, which you should avoid; and Italian parsley, among others.

It is native to Europe and the Eastern Mediterranean, but is now cultivated around the world as a spice and nutritive plant, to be used as a salad herb, a garnish or to make this green colored tea.
In order to make your tea, you can use parsley leaves – fresh or dried, - roots and seeds. Parsley is rich in flavonoids and antioxidants.
This plant has been known since Ancient Greece and Rome, being used as a diuretic, digestive tonic, stimulant of the menstrual flux. It was associated with the goddess of the underworld, Persephone.

Today, the health benefits of tea that parsley can provide you are those you can read in the section below.
Benefits of Parsley Tea
This tea may help with the treatment of arthritis and rheumatism, by ridding the inflamed articulations of toxins.


It makes a wonderful cleansing tea because Parsley is rich in vitamins A, C and E and minerals, acting as an antioxidant.


It acts as a diuretic, fighting water retention. Remember that water retention may be an indication that you may have kidney problems.

So if it has been a while since your last checkup, why not make a visit to the doctor just to make sure that your urinary system is ok?


It may help in cases of kidney insufficiency. This tea flushes out toxins in your body, cleansing and purifying the blood.


Parsley tea may help reduce cholesterol.


Traditionally, it has been used to lower blood pressure.


It is great as a cure for cellulites and as a help if you searching for a weight loss tea.


As it is a uterine tonic, it helps you with irregular and painful menstruations. It is a mild emmenagogue, meaning that it will stimulate menstruation (note that it is expected to work when your period is late and not when you are pregnant).


It may help with contracting the uterus after childbirth.


Its wonderful minerals and vitamins are of great help when you feel physically exhausted.


It is rich in iron, so it's a natural way for you to fight anemia.


As a digestive aid, parsley herbal tea treats flatulence and helps to eliminate bad breath.


It may help treat cystitis.


And it is said to inhibit cancerous tumor growth.
Other external uses of Parsley Tea:
It is good to clean and heal light bruises, such as insect bites for example.


Parsley infusions can be used externally to treat skin ulcers.


This tea is a great way to flavor rice, potato and fish dishes, meat and vegetable stews.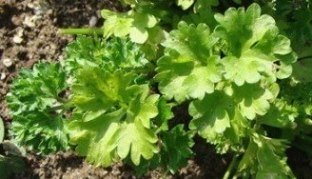 Have a sip of Parsley Tea!
or purchase your parsley tea from amazon.co.uk
Parsley Tea Side Effects and Other Facts
As you've seen, Parsley benefits are numerous, but be sure to read also some of the known Parsley side effects.
Herbal tea and pregnancy do not always go together and this is certainly one of those situations. Because parsley herbal tea brings on menstruation, pregnant women should not drink this tea, as parsley side effects include uterus stimulation, predisposing you to abortion.
So if you are thinking of adding a sweet bundle of joy to your life, best stay away from this herb for the time being.
Also during breastfeeding, drinking parsley tea is discouraged, so it is best to check with your doctor if you want to start drinking this tea or garnishing dishes with parsley herb.
Which is best: curly and flat leaf parsley? Always choose the former when available, as flat leaf parsley can be confused with poison hemlock.
Finally, if you suffer from inflammatory kidney disease avoid taking this tea, as parsley may cause formation of kidney stones due to the oxalic acid present in this herb.
Drinking Parsley Tea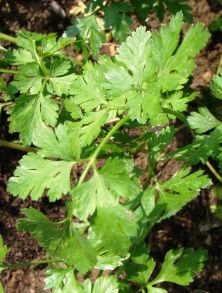 You can use either fresh or dried parsley to make your tea.
And here's one suggestion that may help you make
Parsley Tea
: take 30g of parsley leaves per liter of boiling water.
Let it rest for 10 minutes and then take 3 times a day before meals. If you choose to use parsley root, then reduce to half the amount per liter of water.
Another suggestion for you to use this tea as a diuretic is to: wash your parsley and then pat it dry. You can either chop it or leave it whole.
Boil water and then pour it over fresh or dried parsley. Let it rest for 5 to 10 minutes. Strain the parsley leaves, using a strainer and then drink.
The taste of Parsley Tea can be rather strong and feel bitter and your tea will have a nice green color. The longer you let the leaves steep, the stronger the taste, so try it different times until you feel you've hit the right taste for you.
You can always sweeten it, but if you are looking for a weight loss tea, try different steeping times or herb quantities before resorting to sugar or honey. Sometimes taking the time to experiment may be just the perfect way to keep you from adding unnecessary calories to your drink.
Here's a tip:
As you shouldn't reuse the leaves when making additional tea, it's good to know that fresh parsley herb can be obtained from your grocery store.

Or why not start growing parsley in your garden or in your window box? You can easily grow parsley for your tea or to garnish your dishes.
As it is biennial parsley will only flower and seed in the second year. The parsley plant requires plenty of water to germinate faster, so make sure to do it frequently and choose moist earth in which to plant your seeds.
Buy Your Parlsey Tea Today!
Click on the image or on the link below to purchase from
Starwest Botanicals
your
Parsley Leaf
.
Organic parsley leaf flakes ready for use either for your daily cup of tea or for seasoning any dish.
If you prefer, there is also the possibility of making your tea using leaf powder.
Buy here: parsley leaf flakes or powder



Return from Parsley Tea to Herbal Teas

Return to The Right Tea Homepage

"While there's tea there's hope." - Sir Arthur Wing Pinero (1855-1934), British actor

Do you have a question? Then feel free to Contact Us!
And don't forget to follow us on Facebook or Google+ to receive updates, photos and interesting tips and news! Follow us also on Pinterest!