The Right Tea Newsletter
–

Issue #31 - April 2020
Welcome to the latest issue of The Right Tea Newsletter!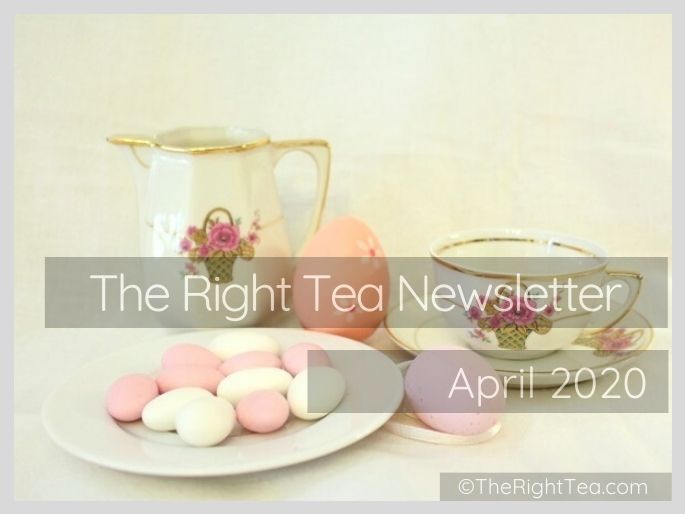 Hello friends!
Easter this year will definitely be different, but that does not mean it cannot be special. Right?
My family tradition is usually to go out for lunch at one of the local restaurants and then, weather permitting, go for a long walk by the river and enjoy the first warm days of spring.
This year we are staying put and trying to make the most of what we have at home. It is important to be safe so we are coming up with ideas on how to celebrate Easter in a different way.
So, my friends, this month I decided to share with you simple menu ideas for an Easter afternoon tea to get you started if you are looking for a way to make this holiday special for your loved ones, too.
---
A Menu for an Easter Afternoon Tea
Just because we should stay home this Easter so that we and our loved ones are safe does not mean that we can't make a special meal and have a good day.
In fact, more than ever, we need a special meal to break with the routine and the feeling of being stuck.
Before we start, let me just say that if you can't get hold of all the ingredients you need or that you can't order them in time, please, do not worry.
Let your use your imagination and be creative with whatever you have at home already.
Planning an Easter Afternoon Tea Menu
There are so many takes on the traditional afternoon tea that you can't possibly go wrong in whatever you choose to serve.
Traditional Afternoon Tea Menu:
The traditional afternoon tea includes both savory and sweet items. If you have a three-tiered stand, this is the proper way to set it up:
Bottom layer – the savory sandwiches: here is where you normally place the cucumber sandwiches, salmon or egg sandwiches.

Easter tips: If you have a cookie cutter in the shape of a rabbit or excellent knife skills you can cut up the sandwiches into shapes for your kids.


Middle layer – the scones: bake warm scones for everyone and serve them with cream and jam. Get started with this scone recipe.

Easter tips: choose a sweet lemon curd instead of strawberry jam to pretend that you are serving scones with an egg filling, or try making a sweet eggy cream, instead.


Top layer – the sweets: proper etiquette says that this layer is reserved for miniature, often decadent, sweet tarts and cakes. As an alternative make fresh fruit skewers with grapes, strawberries and bananas for the children.

Easter tips: fill tartlets with egg cream, decorate your sweets with chocolate almonds or bake egg- or rabbit-shaped cookies. Scatter a few colored sugar almonds for decoration.
Savory Afternoon Tea Menu:
This is ideal for those of you who have less of a sweet tooth and wish to enjoy an afternoon tea all the same:
Bottom layer – the savory sandwiches: this layer stays much the same. You can create egg-filled sandwiches for the season with fresh vegetables.


Middle layer – the scones: make savory versions of scones by adding herbs and serving them with herbal cream cheese or other savory creams or patés.


Top layer – no sweets!: this is where you need to be more inventive, but it is still possible to create only savory treats, such as shrimp canapés, miniature quiches with various savory fillings, cheese bites, etc..

Easter tips: try making devilled eggs, there are very simple recipes that require very few ingredients and taste wonderfully.
Tea Options
The typical teas served in afternoon tea ceremonies are black teas. This is a good option because of the strong flavor of some of the elements served that could overpower a more delicate tea.
This is the ideal meal to pair with a pot of Darjeeling, Assam or Ceylon tea. Take a look at these black teas here.
Time to get ready!
Get your favorite tea set out. Yes, the good one! Make this Easter afternoon tea a special one!
There are so many great things you can include in your afternoon tea that you better be prepared not to have dinner Easter Sunday, and that's okay, too.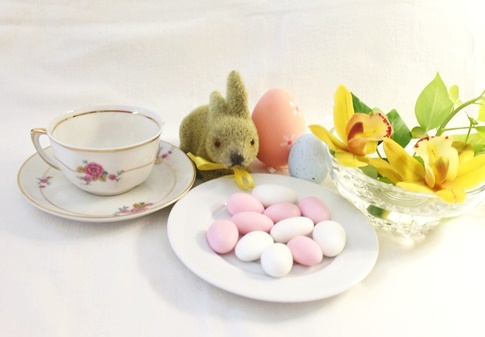 ---
What's Next?
More articles about tea are coming, so keep on the lookout for the next issue of our newsletter. While you wait, look around our website and learn more about tea and its health benefits.
Until then make sure to follow us on Facebook for daily tips and other wonderful tea related items.
Follow us also on Pinterest!
---
Comments / Suggestions
If you have any comments or suggestions regarding this newsletter or anything you would like to see on the website, make sure to contact us using the form you will find here:
---